Sarah Belle Reid
Sound Worlds: a window into the Buchla universe
Designed for Composition
The Buchla Music Easel was originally designed for real-time composition. Influenced by the complexity and intuition of jazz and rock, warped through an experimental electronic sensibility, the Easel allowed the full spectrum of sound, and merged the conductor, composer, and player. Watch Sarah Belle Reid continue and extend this tradition with the new Buchla Easel Command, paired with the Sensel Morph, in this video for one of the great Los Angeles retailers, Perfect Circuit.
Sarah's Patreon
Different Ideas Make Different Sounds
One of the things that gives the Easel its unique sound is a reliance on a different idea of sound creation. Rather than "subtractive synthesis" that relies on primitive waveform shapes and filters, the Easel is designed around building complex shapes from cross-modulation, shaped by distortions. This so-called "West Coast" synthesis concept has found new life in recent years - Make Noise 0-Coast, Newfangled Generate, Arturia Buchla V, Verbos modules, Endorphines Shuttle, Korg Volca Modular. With the Sensel Morph, there's a whole new way to explore the Easel Command.
Learn About the Easel and The Morph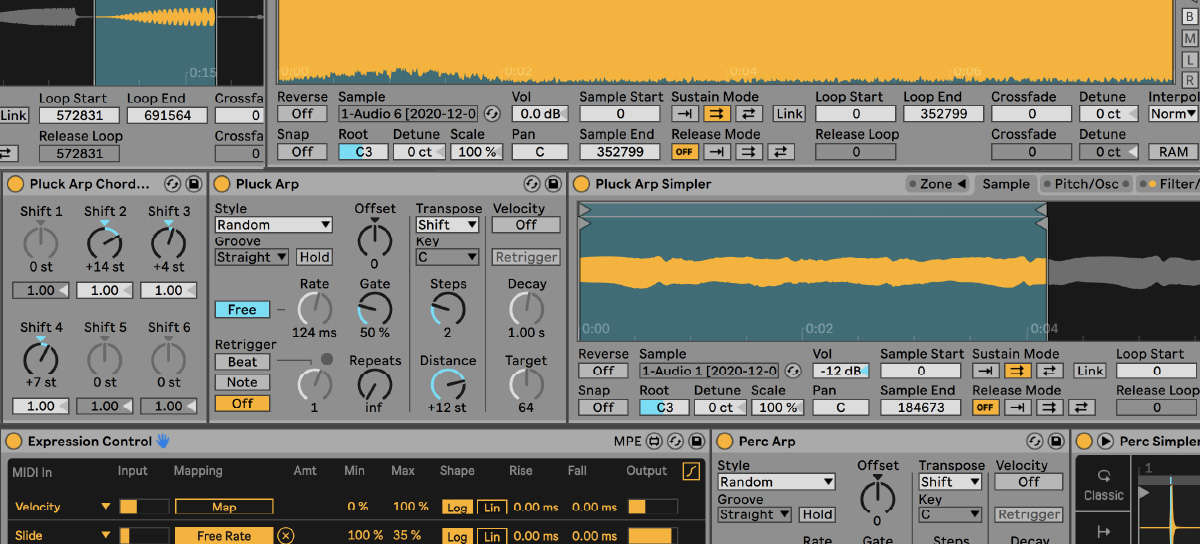 Finger Painting with the Easel's Sound
Sarah created a palette of samples from the Easel, in an Ableton Live set. Designed for Live 10 and Live 11 (taking advantage of Live 11's new MPE (MIDI Polyphonic Expression) integration), it's an incredible opportunity to discover some of the range of textures from an Easel and make them your own. The Live 11 version also contains three additional MPE instruments, using the Buchla samples. Play around, clear your head, make a masterpiece, or make a mess. Fill out the form above for a download link!
In Her Words: About Sound Worlds
There's something really different about this instrument. It feels like you can feel the sound. The first time that you open the low pass gate on the instrument, you can feel it's like a very physical sound. It's very visceral, and so good. It is so rich: you can finesse how much inharmonicity there is and how much feedback there is in the sound. That's something that I really love doing, and it was exciting to kind of find that relationship in the Easel Command. It was really about the sound and the texture and the and just the timbral options that were available.


I was really interested in seeing how I can take this one instrument that's so compact, and has a semi-fixed signal path, and make it as flexible as possible. So one thing that I did that was really, really useful was send controls on separate MIDI channels at the same time from the Morph to the Command. I could address the complex oscillator on one channel and the modulation oscillator on a second channel.


That was a big deal because it kind of turned this mono synth into something that could behave more polyphonic. I was able to have multiple voices at the same time. I could get something going over here that was sort of droning and timbral, and then I could get something impulse-y happening over here. So I had a lot more to work with.


There's crossover between the performance for Perfect Circuit and the Live Set in terms of the sound worlds. They're not exactly the same, but they're definitely kind of inspired by one another. Playing live has a different approach, because in the live performance I was more limited. I had one patch, and I didn't want to re-patch as I was playing. I just wanted to work with that as my instrument.
Whereas for the sample instrument, I did allow myself to re-patch so that I could get a larger range of sounds. So you'll hear the drones, you'll hear all of the transient, percussive sounds - those are very similar. But I also wanted to access some of the more extreme sounds that the instrument can make. We often hear the Command making really pretty, plucky sounds and resonant drones, but if you really push the oscillators up into their extreme registers, and feedback the modulation into the complex oscillator, you get all this amazing kind of staticky glitch. Radio material, almost. I really thought this was important to include kind of as like a textural layer. So that's in the sample instrument.


I was thinking about balancing the relationship of being the person who is playing an instrument in a practiced, active way, with being more of an observer, or an explorer, where you're interacting with things, pushing down on different controls, and experiencing what's happening.


One of the things I love so much about modular synths is that you can, you can play the role of explorer or observer all the time. You can't really do that if you're playing a trumpet. You need to learn how to play it before you can really play music on it, before you can really appreciate the sounds that you're making. But if you're just patching a simple oscillator and you're opening and closing the filter (or the low pass gate), that's more an act of observing and it's more exploratory because you can hear the results of your actions. Instantly.